Discography
Soul Fires (Single), June 2023
There are many fire references on this record. "Soul Fires" is that core/power energy of what creates a feeling of aliveness and an excitement about living. It's the spark of passion fed by nurturing of the self and connection with others. This is my anthem for calling out for the perfect love that I have yet to find.
Produced, recorded and mixed by Jeff Berkley at Satellite, San Diego.
Not My Home (Single), April 2023
A swampy, restless road song written while driving through West Texas. Your anthem for casting out the bad juju. I was weighted down by grief and fighting to keep my head above water. West Texas was the perfect landscape to push those buttons. I could step out of the experience and allow myself to detach and become more of an observer of my mental and emotional journey. This is not me. I am not this heaviness. This is not my home.
Produced, recorded and mixed by Jeff Berkley at Satellite, San Diego.
The River Song (Single), September 2021
There's a very special and mystical place deep in the heart of the Los Padres National forest called The Tassajarra Zen Center. It's been there since the '70's and takes over an hour to drive the 3 miles down into the little valley. It's off grid and powered by the Tassajarra River. I visited there first in 2018 and as soon as I walked onto the land, I could feel a profound and peaceful energy. I found a sweet sit spot on the edge of the river and immediately fell into a deep meditation. In that moment, it felt like spiritual lightening flashed, the top of my head was open and the entire power of the universe was flowing through me. It was a pure and complete transformational moment in my life and it gave me this song.
Produced by Astra Kelly and Jeffrey Alan Berkley. Recorded and mixed by Jeffrey Alan Berkley.
In This Life (Single), July 2020
As a songwriter, people always ask about your process. Over the years my process has become way more intuitive than in the beginning. This song revealed itself like no other. The title came first like a giant thought bubble of contemplation. It was simple enough, but what did it all mean!? I tried to sit with the guitar and a notebook a few times, but nothing sparked for weeks…and the title continued to sit on my shoulder and whisper in my ear. Finally, I said, "what do you want from me?" and the answer was, "look at your life as if you were in that heavenly classroom of the in between, before you were about to live it." Okaaaaayyyyy. and so I did. I saw a flash of my life and wondered if I had know about the joys and the trauma, would I have reacted differently to it? Would I have been prepared or less freaked out, or would I still be just as shocked because nothing could really prepare me for how the actual experience of it would feel. Still no lyrics came, but this concept swirled around in my mind perpetually for another few weeks. Then, one evening I had about fifteen minutes to kill before a gig. All of the sudden the first verse and chorus popped into my brain like a superfast download. I made a quick note in my phone and came home that night, wrote into the wee hours and finished it. I cried.
Produced by Jeff Berkley and Astra Kelly. Recorded and mixed by Jeff Berkley.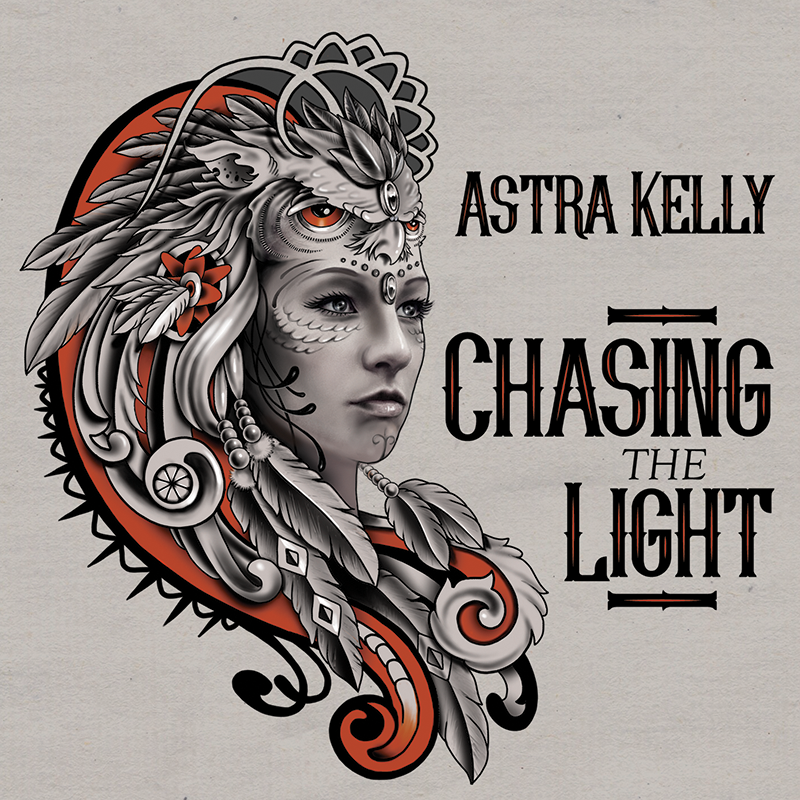 Chasing the Light
"I always love doing photo shoots outdoors and having those moments where you actually get THE PERFECT light…and a lot of times, it does feel like you are literally chasing that light! I write in metaphors a lot. The album title and track references our basic human right to happiness, love and a feeling of fulfillment…but it doesn't just happen. We have to choose everyday to live a good life and to "chase the light" even in the darkest of times. The Owl Goddess image further illustrates the concept. Owl's can see in the dark. The wisdom of Owl as a spirit animal guides you to see beyond the veil of deception and illusion; it helps see what's kept hidden. I was blessed to have the opportunity to re-create this image during a photo shoot with an Eagle Owl named, Cailleach. The songs on "Chasing the Light" are stories of transformation from the inside out." – Astra
Produced by Jeff Berkley and Astra Kelly. Recorded and mixed by Jeff Berkley.
Listen on Spotify
Buy on iTunes
Buy CD's on CD Baby or Bandcamp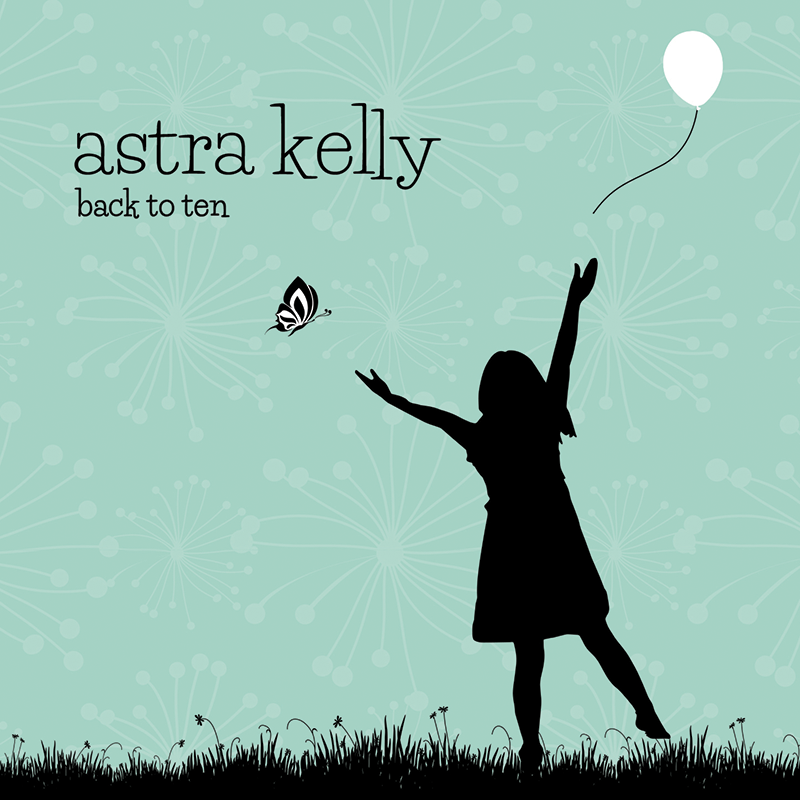 Back to Ten Official
On "Back to Ten," Astra returns to her acoustic roots and the heart of where her musical passions lie: lyrics, melody and stories of living. The album features the contributions of eleven local artists. They each added their own unique stylings to the individual songs, as well as co-wrote some of the tracks. Artists include: Gayle Skidmore, Jeff Berkley, Carissa Schroeder (Sirens Crush), Cathryn Beeks, Trent Hancock, Podunk Nowhere, Matt Davies (Todo Mundo), Marta Z. (Transfer, Stepping Feet), Simeon Flick, and Josie LaValle (12 yr. old student of Astra's).
Guest artists were given just acoustic guitar and vocal tracks and invited to put their stamp on a song. "Back to 10 (or back to 1 in numerology) is that full circle experience of life when one era is completed and another begins. For me, this record symbolizes the end of a long one of those. The cover is a silhouette of my six-year-old niece and she's releasing a white balloon to catch a butterfly. Growing up, whenever there was a death in the family (pets included), my Mom would bring home one white balloon and we'd all go outside, say some prayers and ask that their spirit be released as we let the balloon go. The butterfly, of course, is transformation." – Astra
Recorded, Mixed and Mastered by Josh Mallit at Rarefied Recording San Diego, CA.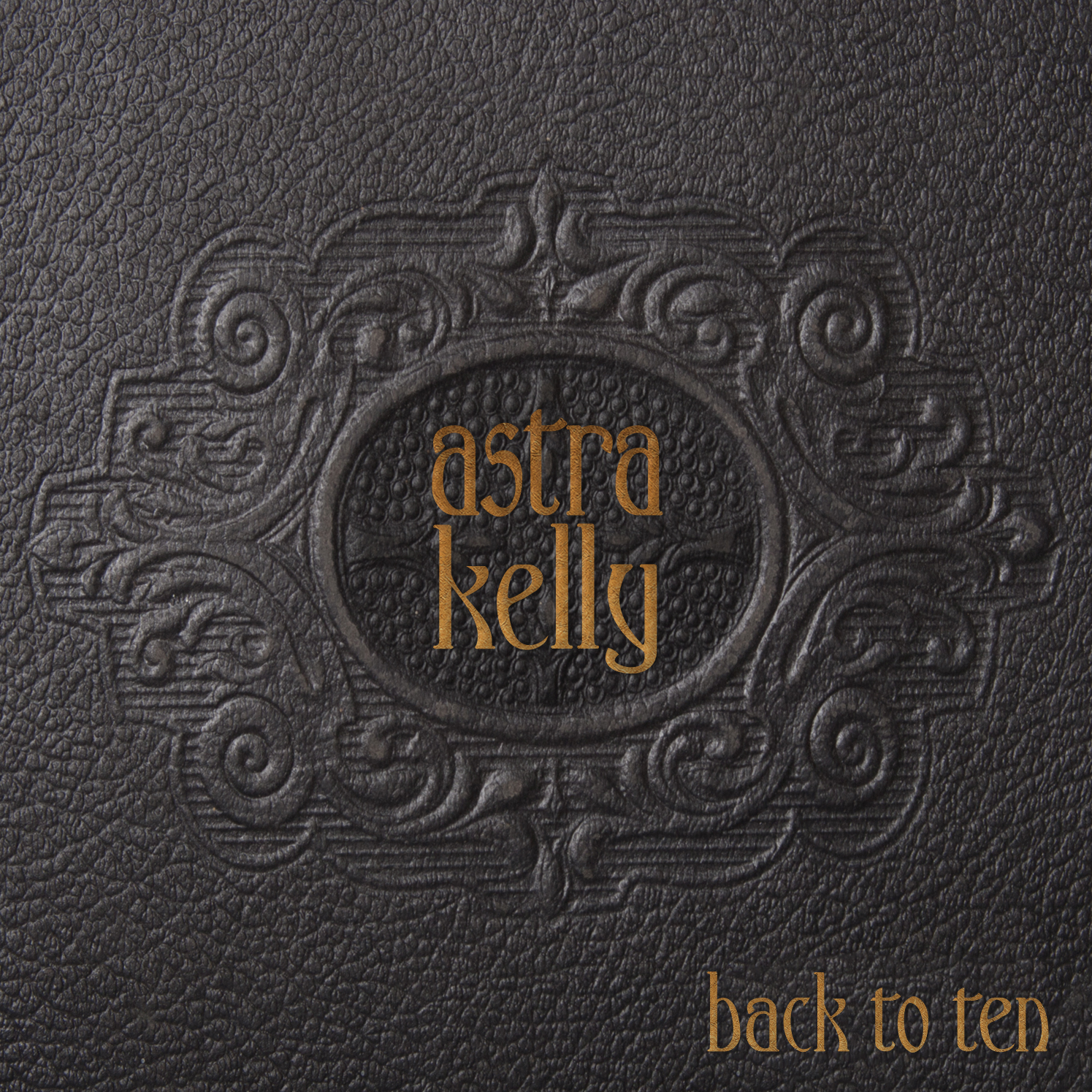 Back to Ten
In numerology, nine is the number of completion and ten takes us back to one….to a new beginning. "Back to Ten" is a collection of songs that dives toward the essence of life from a time of struggle to the return to joy. It is life circling back around and in this case back to the magic in the simplicity of just a girl and her guitar.
*Special solo/acoustic pre-release.
Listen and Buy on Bandcamp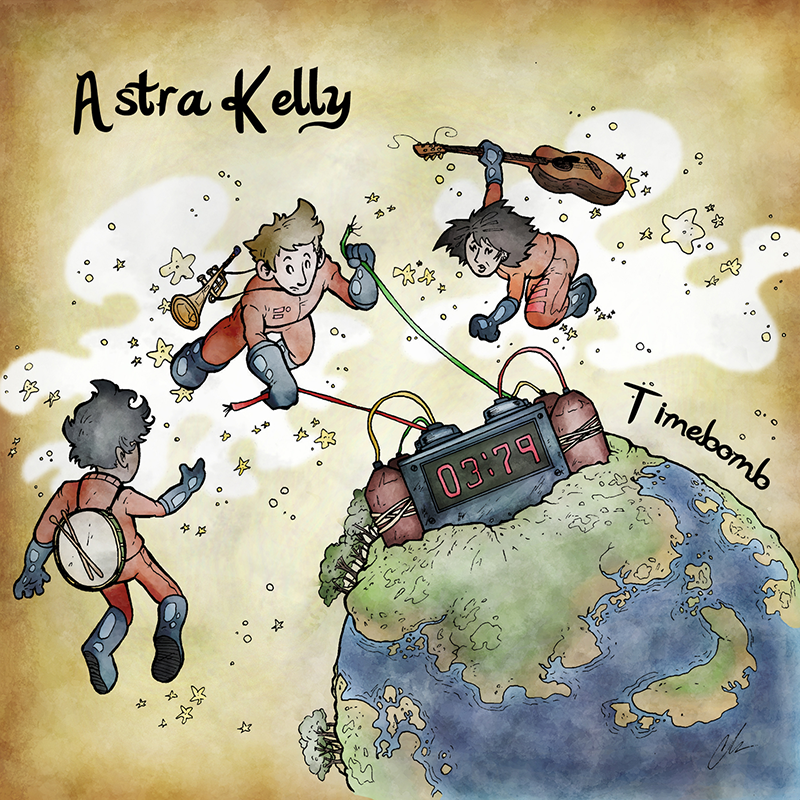 Timebomb
Astra recorded her sixth CD, Timebomb in July 2011 at Capricorn Studios in San Diego, CA. Timebomb contains five new band tracks, including a full band version of the title track from the Battling the Sun EP, plus three remixes by San Diego local DJ's – Club mix, Drum&Bass, as well as a fun, cerebral remix that toast to Kelly's eclectic spirit. For Kelly, it was a very fulfilling record to make and expresses some very basic and universal themes…the power of music to inspire and serve as a soundtrack for our lives (Music), finding the love of our life (These Days), and holding onto to dreams and goals and never letting go (Like Never Before). The albums cover art was done by San Diego local Carlos Foster and inspired by the French novella by Antoine de Saint-Exupéry "The Little Prince." Kelly's father read her the book when she was a young girl.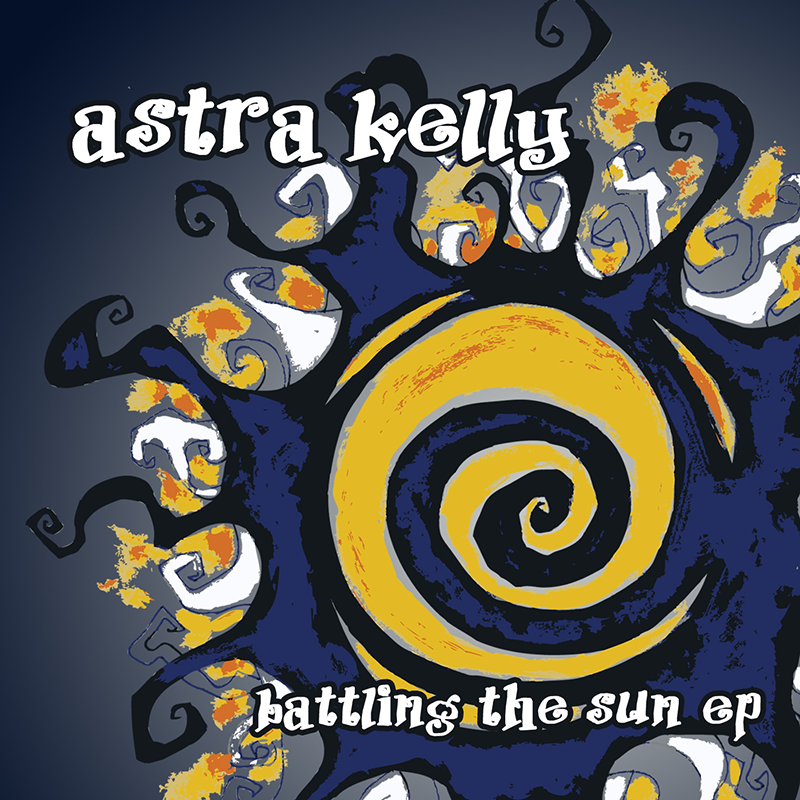 Battling the Sun
In January 2010, Astra released the EP "Battling the Sun" with cover artwork by local San Diego artist Billy Martinez. "The sun is a metaphor for our personal power and confidence and how it's a waste of time to battle ourselves – it's a battle that is impossible to win. Being a musician seems like a battle much of the time, but in the end it is a shared dream, that takes more than just the players to realize. So battling yourself is like ignoring the bigger picture and the common goal."
Recorded and mixed by Kellogg Boynton at Studio West.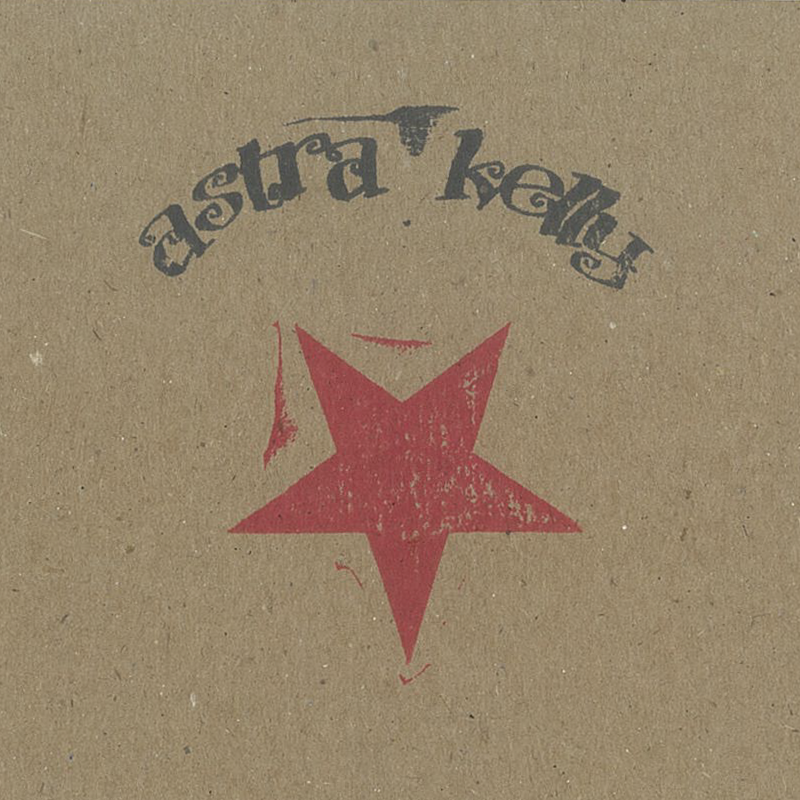 Live at Studio West
Solo/acoustic versions of the "Battling the Sun" tracks as well as tracks from the forthcoming release.
Recorded live in studio by Gerry Matthews.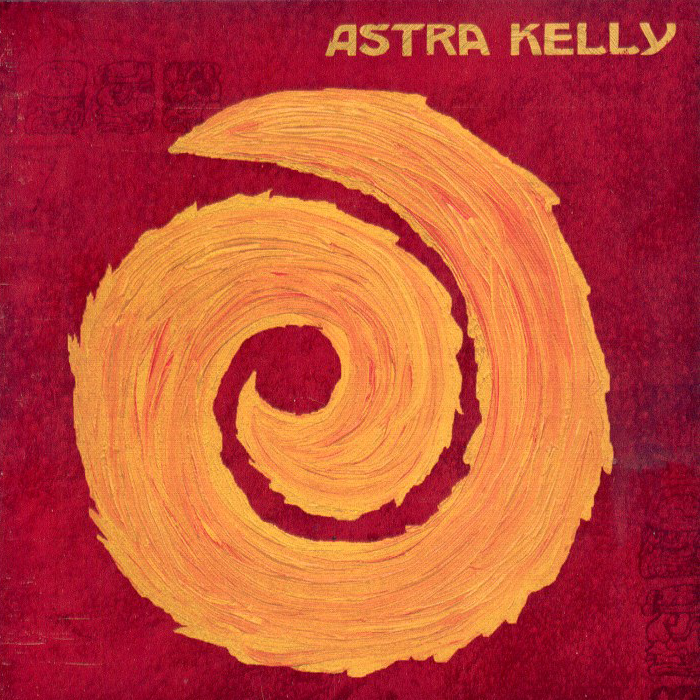 Self-Titled EP 2004
Kelly landed in New Mexico and reunited with her long lost sister who introduced her to Bob DeMarco (producer/ composer and primary writer for Paramount TV.) Together they produced the four song EP. Dividing time between Santa Fe, NM and LA recording studios, the two created a more refined rock/pop sound and feel to Astra's music that would help to define the sound of future releases. There's the blues rock feel of Shotgun Mama…the music is the shotgun. Break the Glass, a song that inspires empowerment; the war and divorce anthem, How Long. Then the reflective solo/acoustic Spanishtown and a raw version of an old English folk song.
Recorded and mixed by Bob Demarco and Steve McDonald. Additional recording at Stepbridge Studios by Michael Chavez.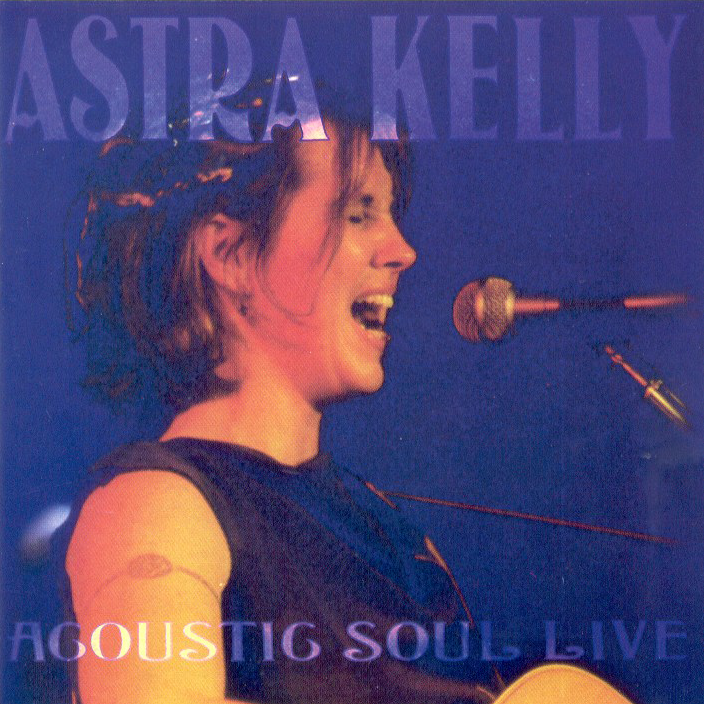 Acoustic Soul Live
In early 2000, Astra bought a conversion van and hit the road booking and performing shows as she went. She stayed with friends and family along the way and occasionally brought her cat along for the ride. The tour lasted nearly two years, 85,000 miles and ended went she hit some black ice in Colorado and her van was totaled by a train. This is a collection of songs from three live shows she played in Colorado surrounding the turn of the century.
Recorded and mixed by Kevin Fugiel.
Listen and Buy on Bandcamp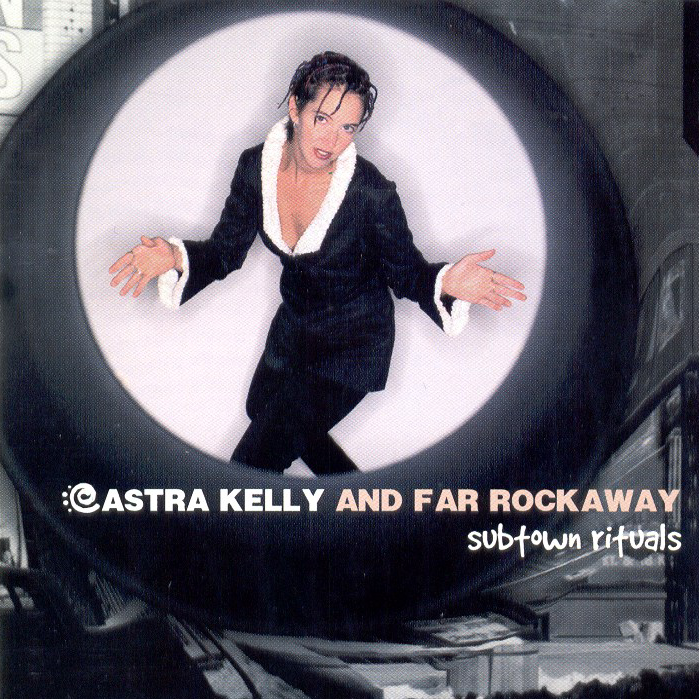 Subtown Rituals
Astra Kelly and Far Rockaway fell into being a band when (all within the same week) a bass player (Ken Schwartz), guitar player (Robert Byrne,) and drummer (Henry Janssen,) all said to Astra, "hey, if you need someone to play in your band, let me know." Friends forever. "Subtown" is a word Astra would use to describe the neighborhoods of Chicago (or any city for that matter.) The band built a substantial buzz in the Chicago scene and released Subtown Rituals to a jam packed, sold-out house at Chicago's Martyrs in the Spring of 1999.
Recorded and mixed at 35th St Studios by Gerry Johnson.
Listen and Buy on Bandcamp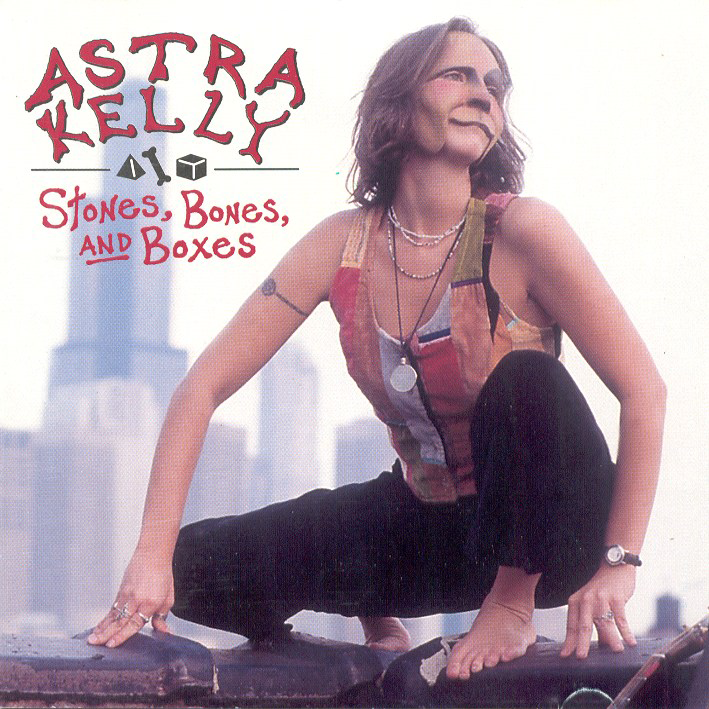 Stones, Bones, and Boxes
During a three-year stint with a touring jam rock band that almost got signed, Astra hit the streets of Chicago to hone her guitar skills and make some cash. Soon with a pocketful of songs of her own, she went solo and holed up in her Chicago apartment with engineers, Kevin Fugiel and Paul Wright, to record her first record, "Stones, Bones and Boxes." Driving past a Louisiana graveyard her car mate asked, "how do you feel about graveyards?" and Astra's reply was, "…just Stones, Bones and Boxes." The A Ha album title moment came!
It was recorded in the summer of '96 and featured a cast of characters from the Chicago scene…different players on each tune. It is an album with a concept. All of the songs are themed and laid out to inspire the dropping of the mask of self. Thus the album artwork…wearing a mask, and on the back, throwing the mask to the ground.
**You hear some really cool audio tricks if you listen to it with head phones.
Listen and Buy on Bandcamp